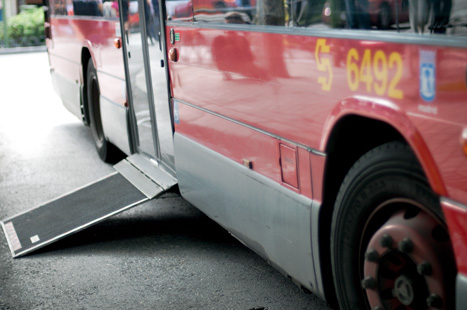 "Double Decker buses" are traditionally related to public transport in the British Isles and single Decker buses are thought of as the continental public classical transport. That classical red bus, the also red telephone box or London Bridge are icons of the British culture that resume the importance of social politics in the United Kingdom. Ever since the Victorian era important social developments were ruled in England, town houses for labor, pottery manufactures with beautiful designs and popular prizes were among other the investments that underlined the welfare state desired in the isles. One of the steps forward on the modernity of those double Decker buses were the reserved areas for people with movement difficulties, baby carts or bicycles. A following innovation establishes lifts to guarantee access to the buses for all. And since the nineties the tilting buses have guaranteed in Germany, England and also in Spain during the Olympic Games in 1992 the access with no barriers to buses. Even though, the manufacturing is originally German under the financial backup of the EU, it was soon incorporated in the Isles and the other countries in the Continent. The low floor buses also have a kneeling system to make even easier the access.
Background
Public transport in train or trolley might be the closest ways to easy movements previous to the buses designed for all. The future would place us in the mono train or the high speed trains with design characteristics for all.
Designers
The Braun Corporation propone soluciones de simplificación de acceso y anulación de barreras estructurales para los autobuses y coches. Entre sus propuestas, el piso bajo, las rampas y elevadores.
Bus as a way of public transport is related to the city and interurban moves. Most public buses in Spain have easy access through the low floor. These buses are separated from the ground only by 320mm of distance. The law of "Igualdad de Oportunidades" guarantees accessibility for all back up by the security of the 1978 Constitution.